Weight Lifting Gloves

BASE: Cow hide or Goat Skin.

CHARACTERISTICS:


These Gloves are Made out of Cowhide or Goat Skin which is durable during
weight training or any other exercise.


Available in spandex on the back or combination of Terry towel with Lycra.


Also we make custom design gloves as per customer's choice


SIZE: XXS to XXL.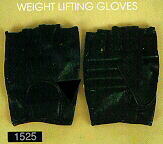 Art #1525 : Full Leather (Optional according to choice)
Art #1526 : Lycra back with white Leather Palm (Optional)
Art #1527 : Terry Fabric back with black leather Palm (Optional)
Art #1528 : Spandex/Leather back with inforced Leather Palm (Optional)
Art #1529 : Terry Fabric back with black Leather Palm (Optional)
Art #1530 : Spandex/Leather back with inforced Leather Palm (Optional)
We would like to introduce ourselves as one of the pioneer Manufacturer and Exporters of All types of Gloves & leather Gloves, Since 1972. Our motto is timely completion of work at economic price.
We present the following Gloves such as,
1. Industrial workgloves
2. Weightlifting gloves
3. Ladies gloves
4. Bicycle gloves (cut fingers and full fingers)
5. Driver gloves
6. Dress Gloves
7. Ski gloves
8. Goal keeper gloves
9. All kind of safety gloves and other all types of gloves whatever customer demands
WCL-12
Art #WCL-12 : Crochet back with reinforced Leather Palm (Optional)

Weight Lifting Belts are also available

Golf Gloves | Batting Gloves | Motor Bike Gloves | Riding Gloves | Driving Gloves
Police Gloves | Cycling Gloves | Dress Gloves | Cross country Gloves | Boxing Gloves
Goal Keeper Gloves | Moto Cross Gloves | Summer Gloves
Weight Lifting Gloves | Working Gloves | Winter & Ski Gloves


| Home |
Leather Gloves | Soccer Balls | Leather Jackets
Buyer's designs are cordially welcomed.
For prices please contact us:


E-mail: info@del.com.pk