Police Search Gloves

Police Gloves in soft sheep skin or Cowhide.


Unlined Gloves made from drum-dyed & finished sheepskin leather or cow hide with Gathered elastic wrist.


Also available with kevler lining for searches.


Ideal for general duty purpose.


Available in all sizes. XSM,SM,MD,LG,XLG,XXLG
Police Cut-Resistant Glove Spectra Lining
We manufacture quality garments and gloves for the law enforcement. We can supply you the gloves made in different lining which we are exporting worldwide.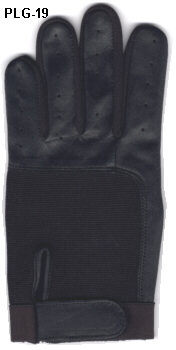 Police Cut-Resistant Glove Kevlar Lining
Police Cut-Resistant Glove Dyneema Lining

Golf Gloves | Batting Gloves | Motor Bike Gloves | Riding Gloves | Driving Gloves
Police Gloves | Cycling Gloves | Dress Gloves | Cross country Gloves | Boxing Gloves
Goal Keeper Gloves | Moto Cross Gloves | Summer Gloves
Weight Lifting Gloves | Working Gloves | Winter & Ski Gloves


| Home |
Leather Gloves | Soccer Balls | Leather Jackets
Buyer's designs are cordially welcomed.
For prices please contact us:


E-mail: info@del.com.pk