Driving Gloves

Made of cow hide also available in goat or sheep skin & cow hide.


Velcro Strap.
| | |
| --- | --- |
| | |
| DG-75 | DG-76 |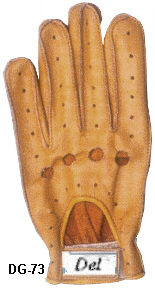 Golf Gloves | Batting Gloves | Motor Bike Gloves | Riding Gloves | Driving Gloves
Police Gloves | Cycling Gloves | Dress Gloves | Cross country Gloves | Boxing Gloves
Goal Keeper Gloves | Moto Cross Gloves | Summer Gloves
Weight Lifting Gloves | Working Gloves | Winter & Ski Gloves
| Home |
Leather Gloves | Soccer Balls | Leather Jackets
Buyer's designs are cordially welcomed.
For prices please contact us:


E-mail: info@del.com.pk




We are committed to the highest standards in product quality and safety, and take pride in our ability to satisfy the requirements of our customers around the all kind of Gloves field. We aim to be the specialist in next generation gloves manufacturer.
We firmly insist the goal of pursuit excellent at all levels of our operation, to pursue a never-ending quest, for improved manufacturing efficiencies necessary to achieve beyond disputed levels of quality. We are inspired by "innovation" to the benefits of our customers. We are motivated to develop new products that not only challenge the limits of our own high standards of excellent --- we are our own fiercest critic!
DEL will continue to set world standards for all kind of Gloves supply and product innovation.