Lowest price on Earth!


Artificial Leather PVC in multi colored printing laminated with 2 Cotton,
1 Polyester fitted with Latex Bladder Butyl Valve ...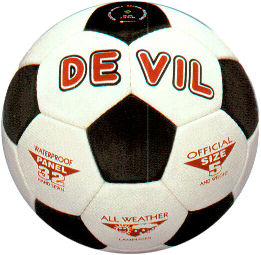 Kid grain korean P.U. synthetic leather.
100% Hand stitched.
One Year guarantee.
Laminated 100% polyester & cotton with latex.
32 panels held by 720 stitches.
official size no.5, 68.5- 69.5cm, circumference while. (Ball Pressure 0.8 Bar)
Official Weight, 420-445 Grams (Ball Pressure 0.8 Bar)
Rebound, 120-150cm at 20oC Temprature.
Available in any colour or graphics.
Recommended for all surfaces & climate.
Recommended for club matches
Introducing a new soccer ball for competitive players. A great ball for all-around training or practice ball for camps. Made of rubber sheeting, 32 panels hand-stitched with nylon cord to make it 100% waterproof.An ideal ball for rainy areas.Binded with 2 Polyester / 2 Cotton inner layers and non-leak butyl bladder guaranteed for two years.Available in size: 4 and 5

| Match balls || Training Balls || Pro Training Balls || Promotional Balls || Indoor Balls |
| Volley Balls || Rugby Balls || Hand Balls || Basket Balls || Mini Balls || American Football |
| Catalog..|| Punching balls || Soccer kit || Track Suits || Specifications |
| Flag Ball || Goal Keeper Gloves ||Soccer Accessories |
| Custom logo printing || Genuine Leather Soccer Ball |
Buyer's designs are cordially welcomed.
For Prices Please contact us:


E-mail: info@del.com.pk
Thank you for your visit.
Kid grain korean P.U. synthetic leather. 100% Hand stitched. One Year guarantee. Laminated 100% polyester & cotton with