Page 10

The DEL Match Soccer balls (Size 5) are modeled on World Cup balls and engineered for the highest level of competitions. They are made of top quality polyurethane and are imported to our factory from Japan. Size 5 Balls are suitable for all players 12 years and above. Our soccer balls are engineered to
the specifications required by the international regulatory organizations for roundness, weight, size, water absorption resistance, impact ability, bounce height and stitching strength. The appearance of the balls was crafted by a professional artist to make them look as good as they play. The balls are made in a facility that is guaranteed free of child labor. The balls are approx. 26.89 in. (68.3 cm) in circumference and weigh about 14.99 oz. (425g). All balls are official size and weight.
High quality polyurethane synthetic leather which is know for its soft touch and durability match after match.
Hand-stitched 32 panels are binded with2 Polyester/ 2 Cotton inner layers.
High quality floating latex bladder has a guarantee for one year.
Available in size: 4 and 5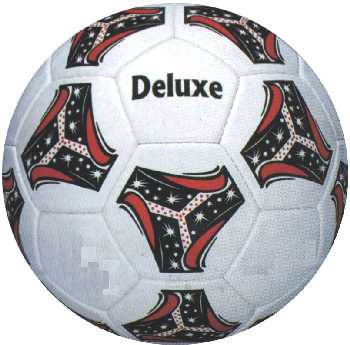 Both our Match and Training soccer balls are available with latex or butyl inner cores.

Back [ Page 2 3 4 5 6 7 8 9 10 11 ] Next

| Match balls || Training Balls || Pro Training Balls || Promotional Balls || Indoor Balls |
| Volley Balls || Rugby Balls || Hand Balls || Basket Balls || Mini Balls || American Football |
| Catalog..|| Punching balls || Soccer kit || Track Suits || Specifications |
| Flag Ball || Goal Keeper Gloves ||Soccer Accessories |
| Custom logo printing || Genuine Leather Soccer Ball |

Buyer's designs are cordially welcomed.
For Prices Please contact us:


E-mail: info@del.com.pk



Soccer Enthusiasts: SOCCER DIRECT SCHOOLS - "TRAINING AMERICA'S BEST PLAYERS" This summer Soccer