Page 3

"DEL" has a research and development laboratory whose abilities and know how is recognised at the international level with the trade. A qualified staff having more than 25 years experience in the field of sporting balls in the guarentee of a high degree of quality and craftsmanship for DEL products...



| | |
| --- | --- |
| DM-165 | DM-166 |
P.U. Shine Special Developed transparent material.
100% Hand stitched.
One Year guarantee.
Laminated 100% polyester & cotton with latex.
32 panels held by 720 stitches.

official size no.5, 68.5- 69.5cm, circumference while. (Ball Pressure 0.8 Bar) Official Weight, 420-445 Grams (Ball Pressure 0.8 Bar)
Rebound, 120-150cm at 20oC Temprature.
Available in any colour or graphics.
Recommended for all surfaces & climate.
Recommended for international competition.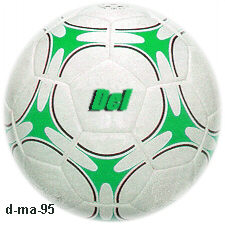 Our involvement with the top sporting events is prestigious, our factories have conceived developed and manufactured balls for the most famous soccor brands world wide...

We carry soccer balls for all levels of play and can customize them them with your club or organizationís logo in many different colors


Back [ Page 2 3 4 5 6 7 8 9 10 11 ] Next

| Match balls || Training Balls || Pro Training Balls || Promotional Balls || Indoor Balls |
| Volley Balls || Rugby Balls || Hand Balls || Basket Balls || Mini Balls || American Football |
| Catalog..|| Punching balls || Soccer kit || Track Suits || Specifications |
| Flag Ball || Goal Keeper Gloves ||Soccer Accessories |
| Custom logo printing || Genuine Leather Soccer Ball |

Buyer's designs are cordially welcomed.
For Prices Please contact us:


E-mail: info@del.com.pk