Unique Balls

Features:
Patent polyurethane specially developed transparent material.
Space matt cellular and pv (100% polyester and pc (65% cotton + 35% polyester.) Lamination with latex construction.
100% Hand stitched.
One Year guarantee against factory fault.
32 Panels held by 720 stitches.
Official weight 420-445 grams (ball pressure 0.8 bar)
Rebound, 120-150cm at 20 C Temperature
Also available in official sizes 4 & 3.
Available in any colour or graphics.
Recommended for all surfaces & climates
Recommended for international competitions.
DS-613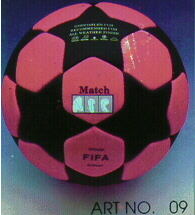 |Leather Gloves || Home || Match Balls || Catalog.|
|Training Balls || Hand Balls || Indoor Balls || Sala Balls || Mini Balls || Rugby Balls |
| Volley +Beach Balls ||Soccer Accessories ||Goal Keeper Gloves || Shin Pads |

E-mail: info@del.com.pk
6 pannel ball, 6 pannel soccer ball, soccer ball, foot ball, football, futbol, fut bol, Fut Boll, Pakistan6 pannel ball, 6 pannel soccer ball, soccer ball, foot ball, football, futbol, fut bol, Fut Boll, Pakistan6 pannel ball, 6 pannel soccer ball, soccer ball, foot ball, football, futbol, fut bol, Fut Boll, Pakistan
manufacturers, importers, exporters, soccer balls, football, rugby balls, volley ball, beach volley balls. - Enterprises Manufacturers & Exporters Of Quality Leather ProductsSoccer balls for summer camps and professionals - You are not able to view this object because your browser does not support java. Soccer is devoted to crafting the highest quality hand stitched soccer balls in the world. We are soccer ball spe Soccer Balls - Assac Industries / Soccer / Soccer Balls / Footballs / Sports / Balls / FootBall / Gloves / Martial Arts / Pakistan / Sialkot / Weight Lifting Gloves - Weight Lifting Belts / Cycle Gloves / Goal Keeper Gloves / Boxing Gloves / Sporting Goods / Soccer / Soccer Balls / Footballs / Sports / Balls / FootBall / Gloves / Martial Arts / Pakistan / Sialkot / Weight Lifting Gloves - Weight Lifting Belts / Cycle Gloves / Goal Keeper Gloves / Boxing Gloves / Sporting Goods Soccer Balls, Match Balls, Regulation Balls ANSSPORTS.COM - Soccer Balls and Accessories - HOMEOUR DUCTSACCESSORIESMANUFACTURINGCONTACTHELP AS ULTRAGRIP GOAL KEEPER'S GLOVES AS DEFENDER GOAL KEEPER'S GLOVES AS NO GOAL GOALIE GLOVEOur best professional quality Goal Keep Soccer Balls by Quattro - Promotional Soccer Balls - Soccer Balls, Volley Balls, Hand Balls, Footballs, Rugby Balls, Toy Balls, Sports Equipment and Accessories - How We Manufacture Balls - RODUCTSACCESSORIESMANUFACTURINGCONTACTHELP ANSSPORTS only carries carefully crafted handmade balls. Our balls are custom manufactured by AS International. They meet the most stringent quality